In the world of online marketing these are some of the most confused terms. I have seen some of my friends being confused with these terms.
Have seen a couple of instances where they have done a lot of google advertising and claiming there was XX% hike in traffic after doing SEO.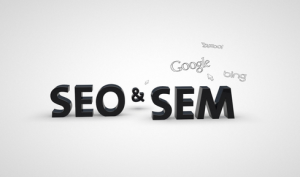 In practice the phrases SEO (search engine optimization) and SEM (search engine marketing) are similar — and sometimes used interchangeably, SEO and SEM are different services.
Both are two different tactics used in traffic generation for online businesses. Simply When SEO gets traffic from organic search ( You rank higher on search results and you donot pay for getting clicks ) where as when it comes to SEM ( its  like search advertising you advertise on popular search engines to get clicks via CPC and you are actually paying for each click you get on to your website. ).
From my experience you should have a 60-40 approach on both of these, you should concentrate more on SEO followed by SEM. SEO takes you to first few spots on organic search and its gives you consistent result and it will take time to get there but once you have the hold on that few regular updates and competitor monitoring will do the job for you. But whereas in SEM you have to spend money on advertising for spots on search pages and you will be paying a huge sum for a huge traffic. So when you wallet is empty its all finished there. But in SEO the results will be consistent and last for long. Studies proves that if you have an ad spot and a organic result on the first page of search then you have 3X more click through rate (CTR) than any other on that page as you have multiple placement and by human psyhocolgy if your website have multiple spots you have more click through rates.
SEO Whats it?
Search engine optimization (SEO) can be described as strategies and tactics used to ensure that a site is accessible to a search engine and improves the chances that the site will be found by the search engine.
The goal of successful SEO is to obtain a high-ranking placement in the search results page of a search engine (e.g. Google, Bing, Yahoo and other search engines). Internet users often do not click through pages and pages of search results, so where a site ranks in a search is essential for directing more traffic toward the site.
The higher a website naturally ranks in organic results of a search, the greater the chance that that site will be visited by a user.
SEO is typically a set of "white hat" best practices that webmasters and Web content producers follow to help them achieve a better ranking in search engine results. Some of these best practices include:
– Creating and publishing excellent content.
– Using keywords and keyword analysis.
– Link building to improve link popularity.
– Using social media links on sites such as Facebook and Twitter.
– Improving your site's navigation to provide an excellent user experience.
– Using sitemaps and internal links giving search bots a better path to identify and craw all your pages easily
SEM Whats it ?
SEM is a broader term than SEO, and is used to encompass different options available to use a search engine's technology, including paid ads. SEM is often used to describe acts associated with researching, submitting and positioning a website within search engines. It includes things such as search engine optimization, paid listings and other search-engine related services and functions that will increase exposure and traffic to your Web site.
SEM offers you the opportunity to pay based on clicks (you pay only for each click through from the advertisement to your Web site). Ads in a successful SEM campaign will be shown to those consumers specifically looking for your products or services, resulting in a higher conversion rate.
The Difference Between SEM and SEO
SEM is a broader term than SEO. Where SEO aims to provide better organic search results, SEM uses the search engines to advertise your website or business to Internet customers and send a more targeted traffic to your Web site.
For example, when people use a search engine to query "fashion handbags", the organic search engine results is where SEO technologies can assist your Web site in being more visible. The paid advertising, or sponsored links are the ones prominently displayed above or beside the organic search results is a product of SEM.
SEO and SEM are not competing services. SEO is considered a subset of SEM services. If you want to conduct business on the Internet you need to be visible in both organic and advertised links, which means you need both SEO and SEM.